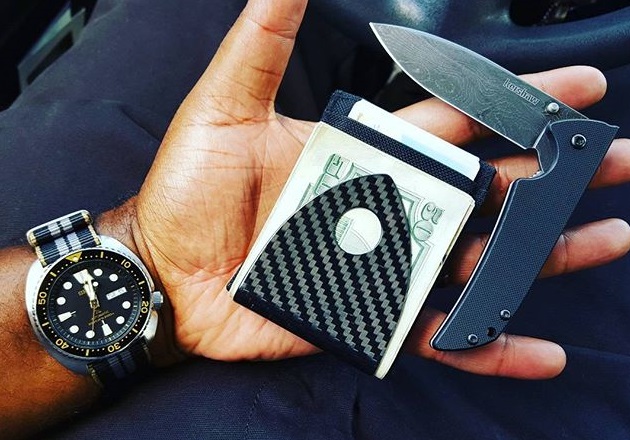 Billetus Carbon Fiber Money Clip
Billetus Money Clip is the next best thing in our hunt for the Exclusive and Personalized list of Men's Accessories. Billetus Money Clip is one minimal wallet that serves the purpose as well as fulfills my lust being the shiniest thing in my pocket. Unlike, the traditional wallets, Billet Money Clip is not thick and it can hold up to 8-10 cards with 15-20 bills. Varients of Billetus Money Clip include Billetus Maximus, Billetus Minimus, MAXX Wallet Kit, MAXX PLUS Clip and the one we liked the most is Optimus Wallet Kit. These clips securely hold your cash; thanks to the extremely well made carbon fiber clip. The Maxx Wallet offers 2 Side Pockets and 1 middle pocket while the Maxx Wallet Kit offers the same for wider pockets and paper thin RFID blocking plates sewn into the card holder.
Our Verdict:
Among the most decent money clips we find nowadays, Billetus Clips are quite sturdy and ofcourse they're quite engineered to look like that. Nevertheless, it's a fairly stylish piece of accessory. Plus, Billetus makes all of their products in the USA!